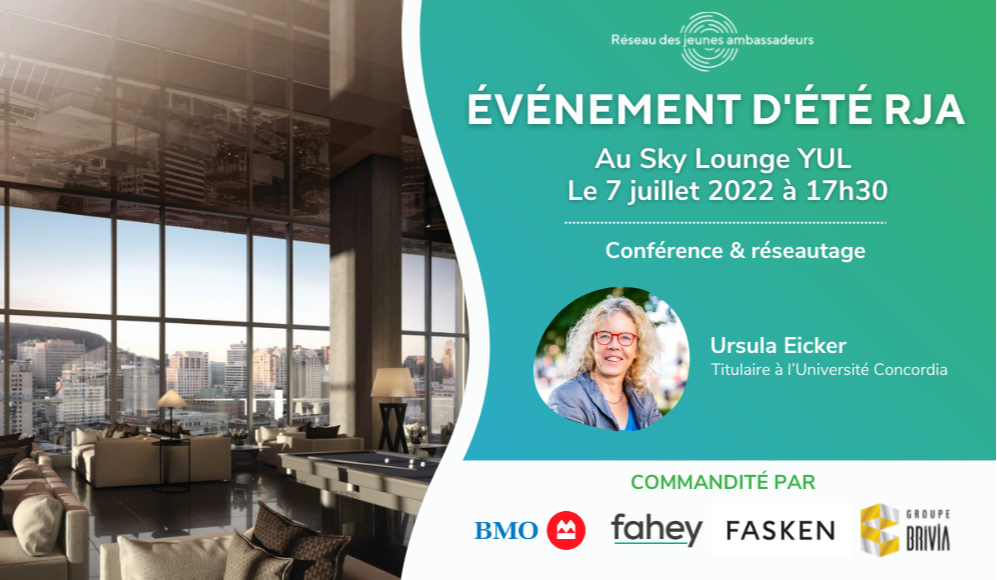 Dans le cadre de l'Événement d'été du Réseau des Jeunes Ambassadeurs qui aura lieu le 7 juillet prochain, Ursula Eicker, Co-directrice fondatrice de l'Institut des villes de la prochaine génération et titulaire de la Chaire d'excellence en recherche du Canada sur les collectivités et les villes intelligentes, durables et résilientes, à l'Université Concordia, présentera une conférence portant sur le thème de la carboneutralité. Mme Eicker a rédigé un mot afin d'introduire sa présentation.
" Next-generation cities are inclusive, connected, collaborative, ecological, healthy, mobile, and encourage engagement to ensure communities are empowered, resilient, prosperous and equitable.
Cities for the next generation should be sustainable and livable communities where people can thrive. Concordia's Next Gen Cities Institute works with a large team of over 200 researchers on strategies for sustainable, affordable and zero emission neighborhoods.
As climate change becomes increasingly noticeable and expensive to deal with, we need to seriously engage with a decade of action. Cities as the locations, where the majority of emissions are created, need to become net zero emitters and this requires bold changes to the way we construct, move people and goods, and deal with materials and waste. Buildings are responsible for about 40% of the global energy utilization, almost 35% of the total GHGs emissions, and 40% of the global resource usage.
So it is not surprising that local and national governments increasingly tighten rules to construct or retrofit to zero carbon standards. Energy and emission data from buildings need to be published in many cities to increase transparency and regulations then gradually push the limits downwards.
To lead the race to net zero construction, we need to do more than just electrify the heating system. As we continue to consume high amounts of electricity, even if this electricity comes from a clean (hydro) grid, we lose the capacity to electrify the transportation system. Saving energy during the winter peak hours through better insulation, better windows and lower air leakage rates, is the best way to avoid massive investment in new electricity generation and distribution infrastructure.
To make these changes happen, we need to remove multiple barriers for the real estate to keep projects financially viable: the Montreal Climate Partnership's project accelerator brings the city, bankers, research and real estate to the same table to support and speed up projects through better financing conditions, faster zoning and permitting and best technology advice. We invite innovative real estate leaders to bring their projects to the accelerator and scale up the much needed climate action. "
Ursula Eicker