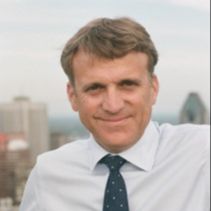 Martin Galarneau, partner, has over 28 years' experience in real estate, including 23 years with TGTA. He is responsible for the project developments, oversees the company's strategic legal affairs, negotiates partnership agreements, and acquisitions, and maintains relations with stakeholders, and institutional and public partners.
He is a lawyer, a member of the Quebec Bar since 1989, and holds a certificate in real estate business and a master's degree in urban planning (Université de Montréal/University of British Columbia).
With a track record marked by the occupation of the post of Associate Deputy Minister for the region of Montreal at the Ministère des Affaires municipales et de la métropole, he began his career in the late 1980s in a major Montreal law firm specializing in real estate law, where he worked mainly on financing and acquisition files.
He pursues his involvement in the community by being or formerly serving on the boards of several foundations and organizations, such as the Partenariat du Quartier des spectacles (Vice-Chairman and Chairman of the Governance and Ethics Committee), École de danse contemporaine de Montréal, Montréal International (member of the Executive Committee), Société du Havre de Montréal, Institut de développement urbain (Vice-Chairman and Chairman of the Economic and Urban Development Committee), UQAM (member of the Audit Committee), Groupe Le Massif, the Comité des affaires municipales et urbaine de la chambre de commerce du Montréal métropolitain, the Commission de l'Aménagement et de la Mobilité de la CMM and the Comité Aviseur sur la fiscalité municipale – Montreal city.